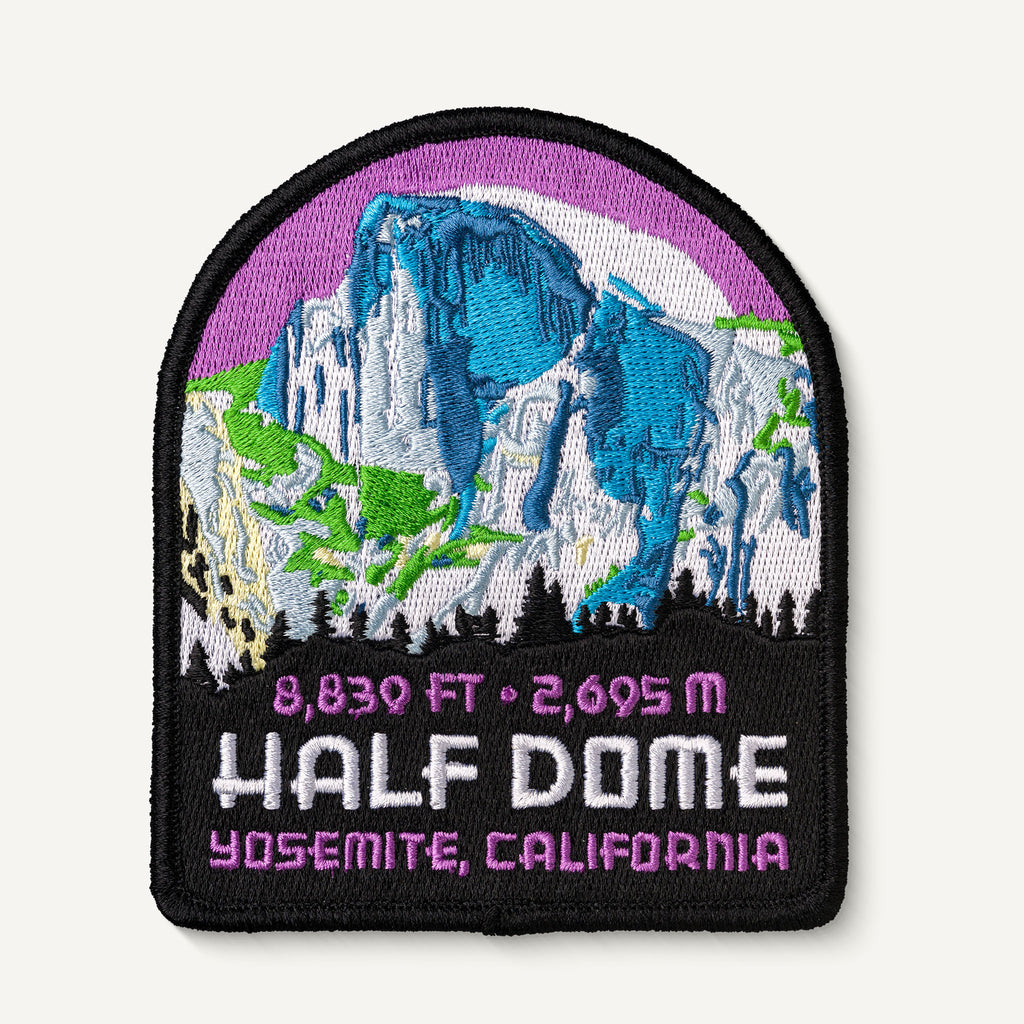 Half Dome Patch
This embroidered iron-on patch features Half Dome, the iconic granite rock formation in Yosemite National Park.
Features:
3.5 x 4 inches (8.89 x 10.16 cm)
100% embroidered with 8 vibrant thread colors
Iron-on backing for application to your favorite pack or clothing
Elevation in both feet and meters
Smooth, merrowed border to prevent loose threads
Rising nearly 5,000 feet above Yosemite Valley and 8,800 above sea level, Half Dome is an awe-inspiring granite formation. Despite being described in 1865 as "perfectly inaccessible", today thousands of hikers reach the top each year by following an 8.5 mi (13.7 km) trail from the valley floor. After a rigorous 2 mi (3.2 km) approach, including several hundred feet of granite stairs, the final pitch up the peak's steep but somewhat rounded east face is ascended with the aid of a pair of post-mounted braided steel cables originally constructed in 1919.

Alternatively, over a dozen rock climbing routes lead from the valley up Half Dome's vertical northwest face. The first technical ascent was in 1957 via a route pioneered by Royal Robbins, Mike Sherrick, and Jerry Gallwas, today known as the Regular Northwest Face. Their five-day epic was the first Grade VI climb in the United States. Their route has now been free soloed several times in a few hours' time. Other technical routes ascend the south face and the west shoulder.
Whether you are an avid outdoorsman or just an avid collector, you won't find an embroidered patch of this caliber anywhere else! 

© This design is copyright of Expedition Souvenirs. You may not copy or reproduce this product.
---
---
More from this collection